Have you ever heard of the Dark Knight? Well you might now him by another name; Batman.
Batman has been a DC Comics super-hero for so long. He started out in comics, moved on to action figures, then video games and finally, the movies.
Batman is a fictional character and a comic book superhero created by artist
Bob Kane
and writer
Bill Finger
. Batman first appeared in Detective Comics #27 on May 1939 and since then has appeared primarily in publications by
DC Comics
. In adition to being refered to as Batman, he is also known as "The Caped Crusader", "The Dark Knight", and "The World's Greatest Detective".
The Batman movies started with the late 1960s Batman television series which used a camp aesthetic that continued to be associated with the character for years after the show ended. Various creators worked to return the character to his dark roots, culminating in the 1986 miniseries The Dark Knight Returns, by
Frank Miller
, while the successes of
Tim Burton
's 1989 film Batman and
Christopher Nolan
's 2005 reboot Batman Begins also helped to reignite popular interest in the character.
Batman Begins
, awas directed by
Christopher Nolan
and starring
Christian Bale
as Batman. Its sequel,
The Dark Knight
(2008), set the record for the highest grossing opening weekend of all time in the U.S., earning approximately $158 million, and became the fastest film to reach the $400 million mark in the history of American cinema (eighteenth day of release). These record breaking attendances saw The Dark Knight listed as the third-highest domestic grossing film of all time with $533 million, bested only by
Titanic
and
Avatar
.
Another sequel,
The Dark Knight Rises
, is expected to be released later this year, and is said to be the final Batman film to feature Nolan and Bale as director and leading actor.
The comics were a big hit in the day and most people lived for Batman! Here's a 1944 Batman original Sunday newspaper comic strip.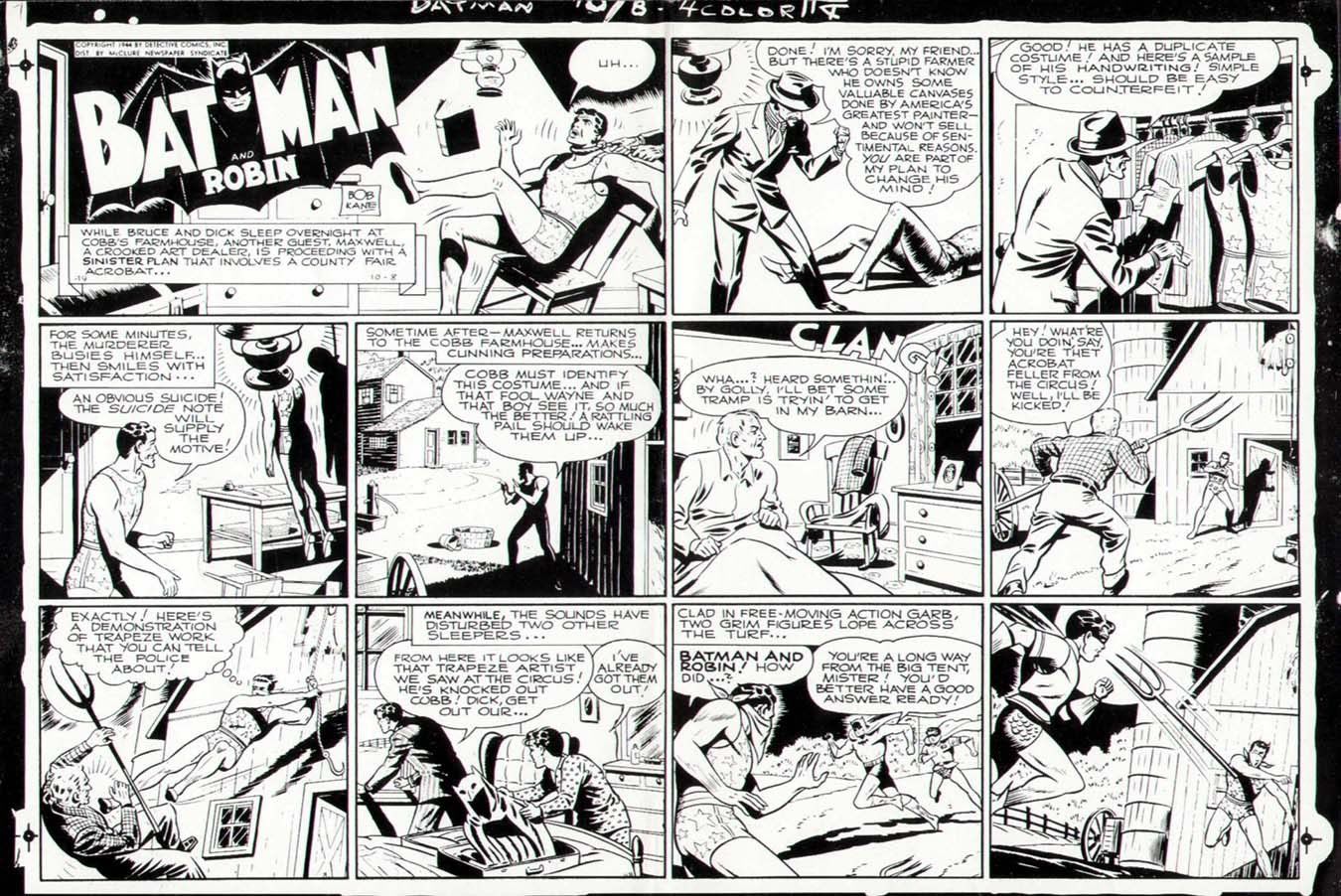 Click to enlarge
Now over time, the Batman movies have grossed so much money that it's just crazy!
http://boxofficemojo.com/franchises/chart/?id=batman.htm
has created a list of the top grossins Batman movies.
Rank
Title (click to view)
Studio
Gross / Theaters
Opening / Theaters
Date

1

The Dark Knight
WB
$533,345,358

4,366

$158,411,483

4,366

7/18/08

2

Batman
WB
$251,188,924

2,201

$40,489,746

2,194

6/23/89

3

Batman Begins
WB
$205,343,774

3,858

$48,745,440

3,858

6/15/05

4

Batman Forever
WB
$184,031,112

2,893

$52,784,433

2,842

6/16/95

5

Batman Returns
WB
$162,831,698

2,644

$45,687,711

2,644

6/19/92

6

Batman and Robin
WB
$107,325,195

2,942

$42,872,605

2,934

6/20/97

7

Batman: Mask of the Phantasm
WB
$5,617,391

1,506

$1,189,975

1,506

12/25/93
All the Batmans together have grossed over $1,286,852,340! Now that's an INSANE amount of money. Now since Batman is one of the greatest movies ever, it has some amazing movie scenes.
\
Original Batman Fight Scenes
It's Me, The Riddler! MWAHAHAHAHA
Here's how you use the Magic Bullet! Get it, bad guys, bullets ;P
Actually, I have gotten up close and personal with the original batman outfit, batmobile, and batbike. When I went to Cali earlier this year I went to a car building with the coolest and the oldest cars ever. Here are the pictures for you :)
Batman Costume Plaque
Original Batman Costume
Batmobile Plaque
Original Batmobile
Batbike
All in all Batman rocks. In a movie, comic strip, or just a thought, he is one of the greats and will always be remembered as The Dark Knight.
A-Z Question:
What's your favorite Batman character? Favorite Villain? Whats the first thing that comes to your head when you hear the word, Batman?
Check back tomorrow for yet another amazing post! Let's just say this one falls once again into the super hero category ;) What super hero starts with "C"???
Cheers!
-Yadin
P.S. this was the last long post :D The rest are short, don't worry :)